Late Spring/Early Summer MENU - 2018

- APPS + STARTERS -

-CALAMARI ANTIPASTO…A Yankee Magazine Best ! -CRISPY CALAMARI, SALAMI, CAPICOLA, HOT PEPPERS, RED ONION, KALAMATA OLIVES, BABY SPINACH, tossed in LIGHT VINAIGRETTE...14.50
-NO FRILLS...PLAIN CALAMARI TUBES+ POMODORO DIP...11.50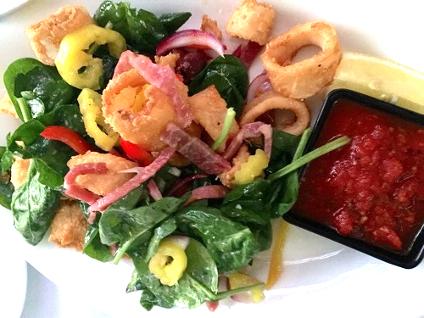 -NEW ENGLAND CHOWDER…HEARTY, THICK RICH BOWL with SWEET CORN + APPLEWOOD SMOKED BACON...7.50
-SMOKED CHICKEN SPRING ROLLS…HAND-ROLLED in HOUSE with JULIENNE CARROT, SQUASHES, FRESH GINGER + SWEET CHILI SAUCE...11.50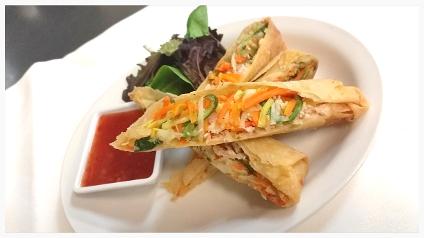 -HUNT BLOCK…SWEET + SAVORY SAMPLING OF QUALITY CHEESES, CURED MEATS, NUTS, JAM, FRESH FRUIT, MIXED OLIVES, BABY GREENS...14.50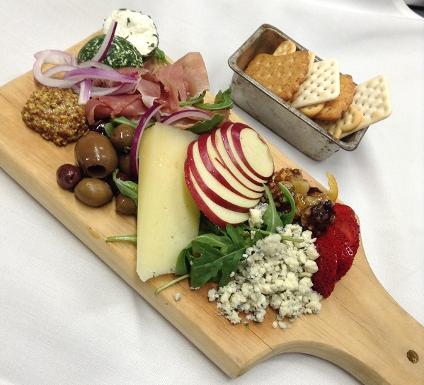 -FIRECRACKER FRITTERS…GOLDEN FRIED with SPICY TASSO HAM, SWEET CORN, BANANA PEPPERS, PEPPADEW PEPPERS, SCALLIONS + CHIPOLTE AIOLI ...11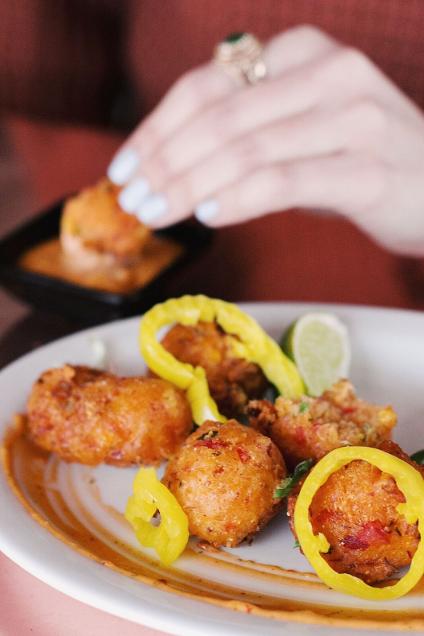 -PEI BLUE MUSSELS…ONE POUND FRESH MUSSELS SAUTEED in COCONUT MILK, PINEAPPLE, GREEN CURRY BROTH, JULIENNE CARROTS + SCALLIONS...13.50
-LITTLE RHODY NECKS…PAN-ROASTED CLAMS, RED PEPPERS, SPRING ONIONS, CHOURICO, RICH SWEET CORN CREAM SAUCE...13.50 > ENTRÉE PORTION... MORE NECKS + LINGUINE...23.50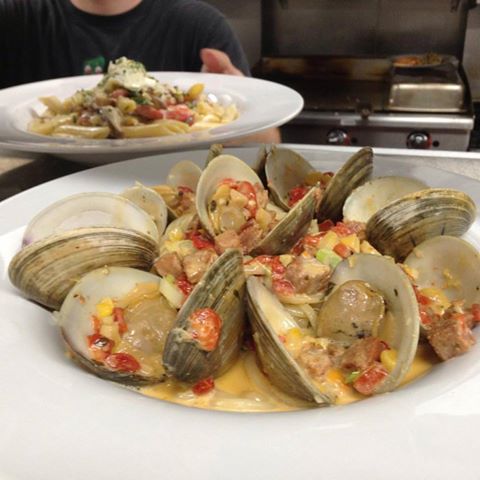 -SPICE PLUM GLAZE PORK RIBS…BRAISED TENDER then DEEP FRIED with CRUSHED PEANUTS + SCALLIONS, SUBTLE SWEET + SPICY ...12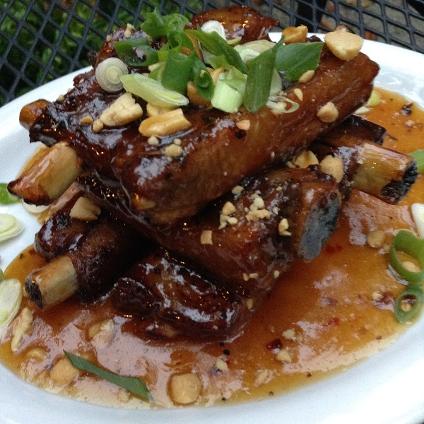 -CHILLED YELLOWFIN TUNA…CARROT, CUCUMBER + RED PEPPER ASIAN SLAW, SESAME SEEDS + JALAPENO-GINGER AILOI...13.00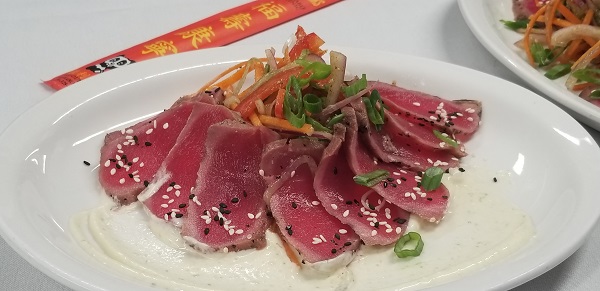 -COCONUT SHRIMP…THREE GOLDEN FRIED JUMBO SHRIMP with TROPICAL FRUIT SALAD, MANGO-CHIPOTLE PUREE, CRISPY-SPUN SWEET POTATOES...12.75
- FLATBREADS -
-FRESH PESTO + SMOKED BACON… ASPARAGUS, GOAT CHEESE, ROASTED RED PEPPERS + SHAVED PARMESAN...11.50
-WHITE PIE…SWEET FIG PUREE + MOZZARELLA, PARMESAN + GORGONZOLA with CARAMELIZED ONIONS + CRISP PROSCIUTTO CRUMBLE, ARUGULA..11.50
-MARGHERITA…FRESH BASIL + ROMA TOMATO, CREAMY MOZZARELLA + XVOO...10.00

-SIDE ADDS… FRENCH FRIES...GREEN BEANS...CREAMY POLENTA... ASPARAGUS...CROSTINIS...SESAME SAUTEED VEGETABLES...WHITE BEAN RATATOUILLE...JASMINE RICE...5.50
- Legal Stuff -

*THIS ITEM IS RAW OR PARTIALLY COOKED + CAN INCREASE YOUR RISK OF FOOD BORNE ILLNESS. CONSUMERS WHO ARE ESPECIALLY VULNERABLE TO FOOD BORNE ILLNESS SHOULD ONLY EAT FOODS OF ANIMAL ORIGIN THAT ARE THOROUGHLY COOKED.
-All menus published by Simpatico Jamestown
in any media type are subject to change at any time.
- SALADS -
-HOUSE CAESAR for 1…CRISP ROMAINE, GOLDEN CROUTONS, SHAVED REGGIANO PARMESAN, 'CHOVIES on REQUEST...4.75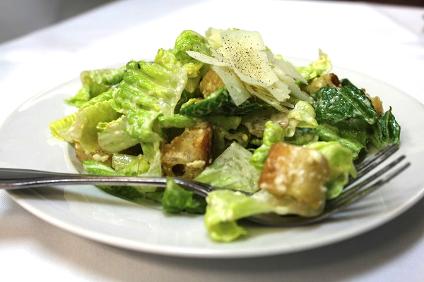 -WEDGE SALAD…CRISP ICEBERG, GRAPE TOMATOES, BELL PEPPERS, RED ONIONS, BACON, HARD BOILED EGG + SIDE of GORGONZOLA DRESSING...8.50
-WILD BERRY SPINACH SALAD…'GANSETT CREAMERY FETA, PICKLED RED ONION, SPICE WALNUTS + HONEY-CHAMPAGNE VINAIGRETTE...8.50
-BISTRO GREENS…MIXED BABY LETTUCES, GRAPE TOMATOES, RED ONION, KALAMATA OLIVES, CUCUMBER, WHITE BALSAMIC VINAIGRETTE...4.50
+GRASS- FED, GRILLED CHICKEN ... 9

+ THREE JUMBO SHRIMP... 10.50
+ SEARED SALMON... 17
- ENTREES + PASTA -


-GLAZED SALMON*… THE CUSTOMER FAVORITE...MOIST FILET, MAPLE-SOY GLAZE, GINGER–SCENTED JASMINE RICE, SESAME SAUTEED VEGETABLES...24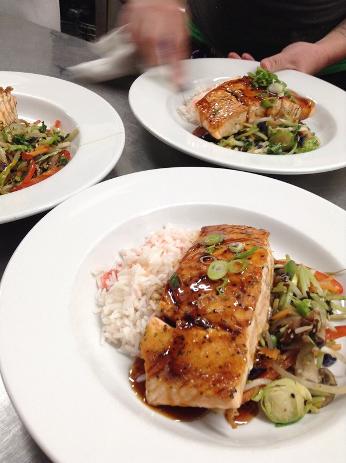 -CREAMY PESTO PASTA…SAUTE of FRESH ASPARAGUS, PEAS, GRAPE TOMATO, YELLOW SQUASH, BABY SPINACH in OUR WALNUT-PESTO WITH A HINT of CREAM over LINGUINE...21.50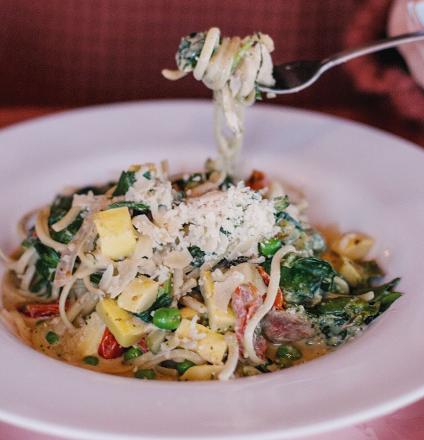 -SHRIMP PAELLA…SAUTEED JUMBO SHRIMP, CHOURICO, GRASSFED CHICKEN in SAFFRON BROTH + VEGETABLE RICE with RED PEPPERS, RIPE TOMATOES, LOCAL CORN, PEAS + FRESH CILANTRO...24.50
-THE BOLOGNESE…CLASSIC, RICH PREPARATION of RIGATONI SIMMERED with GROUND BEEF, VEAL, HOT + SWEET SAUSAGE, SHAVED PARMESAN + FRESH BASIL...22.50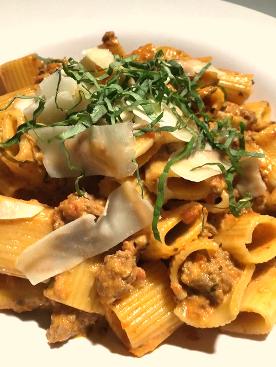 -CURRY-DUSTED CHICKEN…STATLER CHICKEN BREAST with HEAT + SWEET COCONUT-CURRY SAUCE, WATERMELON-CUCUMBER RELISH, JASMINE RICE + SAUTEED GREEN BEANS + CARROTS...23
-GRILLED ATLANTIC SWORDFISH*…RATATOUILLE, DRESSED ARUGULA with OLIVE-MANDARIN ORANGE MIGNONETTE...MKT (30-32)

-CITRUS-BBQ PORK TENDERLOIN*…GRILLED with RELISH of SWEET CORN, TRI-COLOR BELL PEPPERS, GRAPE TOMATOES + CILANTRO in SAUTEED SPINACH with CREAMY POLENTA…23
-SEARED YELLOWFIN TUNA STEAK*…CHILLED EDAMAME SALAD, JASMINE RICE, SPICY RED + MILD GREEN WAKAME, SWEET WASABE CREAM + GOLDON WONTON CHIPS...MKT (30-32)
-PENNE ARRABBIATTA…SPICY TOMATO, SWEET ONION, CAPERS + NICOISE OLIVE POMODORO with FRESH PARSLEY + SHAVED PARMESAN...19.50
-FRESH-GROUND ANGUS BURGER* …CABOT CHEDDAR, APPLEWOOD SMOKED BACON, LETTUCE + TOMATO, EVERYTHING BRIOCHE BUN with GOLDEN, BATTERED FRIES...14.50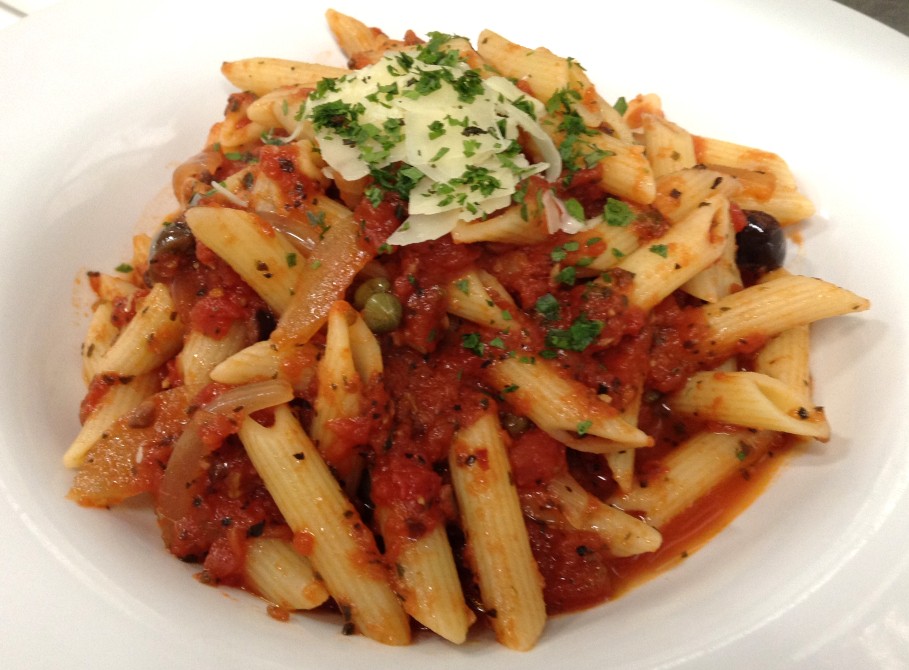 -Allergies -

BE ADVISED THAT ANY OF OUR PRODUCTS MAY CONTAIN, OR MAY HAVE COME IN CONTACT WITH ALLERGENS INCLUDING, EGGS, FISH, MILK, NUTS, SHELLFISH, SOY, TREE NUTS + GLUTEN AND THESE ALLERGENS ARE PRESENT IN FOOD PREP/COOKING AREAS. WE CANNOT GUARANTEE THAT ANY MENU ITEM CAN BE COMPLETELY FREE OF ALLERGENS. WE STRICTLY ADHERE TO THE STATE OF RI ALLERGY STANDARDS.